Field trips are usually an experience to observe the outside world for educational benefit. A field trips can provide children with more advantage to explore and understand new environment.  The impact of an educational trips can do more than just expand the child's knowledge, it is also a chance for them to build a bond with other peer groups and create an enriching life experience. Arya Gurukul is one of the best schools in Dombivli and our school incorporate field trips as part of the school curriculum. The purpose of such trips is to let student explore and discover more about the world outside the classroom.
Field trips are sure to add a positive impact on the child's education, he/she will be aware of the new environment which will develop the curious mind. A closer teacher-student bond is built since students are willing to learn more about the particular place or activities through interaction and exchange of ideas. Our School is one of the best schools in Dombivli, and we initiate field trips for productive learning experience.
Some of the trips which our school took over the years includes a trip where students were engaged in farming and involved in hands-on experience in farming. This activity taught children the importance of team work, respecting nature, value of hard work, problem solving skills, and discipline. Another trip taken by our school was at Pragati Blind School, Badlapur, this trip was an eye-opener for the students as they took a closer look into the world of blind and understood their life. The spark of life showed by the student of blind schools motivated our students to lead their life with courage.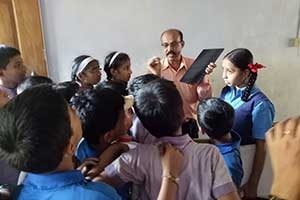 These are just few of the many field trips we took, which was inspiring and memorable. Allowing students to interact and connect with the new environment is a great way to motivate and bring an improvement in their life as a student.