In order to build a decent learning environment, it is necessary for schools to give children the right amount of space to explore and discover everything that's happening around them as well as themselves so that they can learn naturally. Arya Gurukul, one of the best schools in Kalyan give students a well-established, pollution-free environment in Nandivali Village, Kalyan (E) and Arya Gurukul, at Rutu Riverside Estate, Kalyan (W).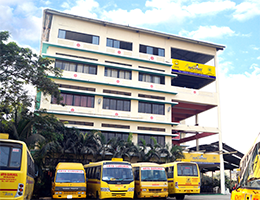 Arya Gurukul's motto is to provide students a solid foundation for lifetime as only a strong base will take them further in the next stage. Our aim is to offer a unique kind of education in an environment where students can freely express their emotions. The classrooms, an integral part of the school where your child spends most of his time are well- planned, well-equipped, and spacious. The infrastructure of the school is planned in order to give children a fresh outlook on studies so that they don't just swallow what is being served but also grow up as active and curious individuals who take keen interest in learning beyond the school premises as well.
Since a good infrastructure is believed to boost a child's mental and physical health, we have made sure that all the required attention is given to the school's foundation. Implementing the Chinmaya Vision Programme, Arya Gurukul, one of the top schools in Kalyan seeks to promote holistic development in a child's education.