The Digital Transformation background-   
Arya Gurukul's digital sojourn started long before the Pandemic was even heard of, back in 2018. Arya Gurukul had become a Microsoft Aspire School (MASP Pro) in 2018. The teachers of Arya Gurukul became aware of how technology-equipped them to be better teachers who could use their creativity and use it towards their professional development. The day the Lockdown was announced in March 2020, the annual exams were going on with only three papers due. These three exams were converted overnight into the online format and thus began the digital learning journey of Arya Gurukul. The application of Blended teaching methods came right at this juncture as one of the papers was Sanskrit for which students were asked to write a few answers offline and then submit them online. Similarly, Geometry and Social Studies paper were also adapted to the Online mode.   
Today, Arya Gurukul is declared a Microsoft Partner School. The teachers of Arya Gurukul have witnessed the ease of collaboration and are well- versed with tools such as MS OneNote, ClassNotebook and Teams. They use the OneNote to create engaging Lesson Plans. These are on OneDrive and are simultaneously monitored and edited by others involved. The lesson plans, pedagogy and learning outcomes were rethought as per the 21st Century CLD.  
Holistic Development even during remote learning-  
At Arya Gurukul holistic development and integrated learning are not just teaching pedagogies but a way of life. Personality development and knowledge of culture and traditions take a forefront. The ways in which the school fostered these areas of development in children remotely are –  
Rocketeers – An 

Online 

Rocketeering

 Workshop prepared children

 in the application of STEAM learning.

 

 

Code is Life- Coding Lessons to prepare students to become creators of technology and not merely consumers of it.

 

 

Swardhara

– Indian Classical Music Lessons for the musically inclined. 

 

 

Paani

 Foundation- Carbon Sequestering and Water Management Workshop

 

 

Online Environment Day and Yoga Day Celebrations 

 

 

Online 

Ganeshotsav

 Celebrations

 

 

Online Independence Day Celebrations

 

 
Blended Classrooms-  
Right at the onset, the curriculum planners had decided that teaching from here on will be a combination of synchronous and asynchronous methods and therefore, the Online classes were given the name of "ONLINE CLASSROOMS".  
During class, the teacher introduces concepts using content-rich Powerpoints and Sways. These are then made available to students offline for them to refer to once the class is over. The OneNote ClassNotebook is a rich repository of content for students to access in their own time for referencing and revision. These ensure that students are not burdened. Streams help in recording the online classes and enable students who miss out on class to catch up.  
Students are also sent Quizzes and assignments using MS Forms and the Assignment bot on MS Teams.   
For Social studies such as History, EVS and the like, students are taken on virtual tours and virtual field trips to get a first – hand experience, something that was not even possible in traditional classes due to restrictions of distance. Indeed, remote learning has removed all barriers of time and space! Virtual laboratories give students an opportunity to work on experiments and simulations make concepts clear. These are used widely in our Chemistry and Physics lessons.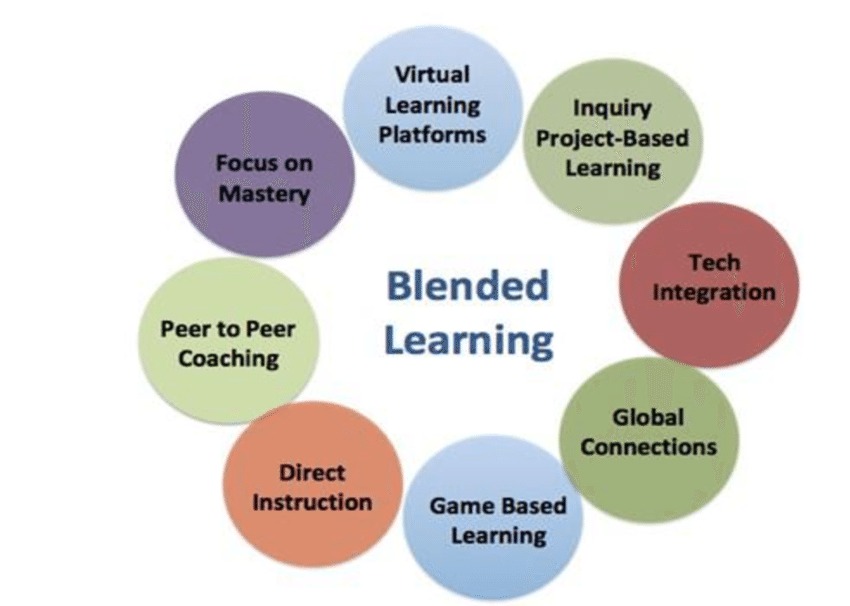 Students get an opportunity to get their doubts cleared during and after classes. Regular assignments and Quizzes enable recapitulation.  
Children of younger classes are engaged in various hands-on activities at home to further their learning. Carefully designed activities, using simple, easily available materials are sent with detailed instructions for parents on Flipgrid. These activities aim at application of the theme or concept learnt in class.   
Children perform these activities in their own convenient time. Parents record their videos and return on Flipgrid. The concerns of Screen – time and fatigue are therefore addressed.   
Regular appreciation and encouragement is shown to students to keep them motivated and enthusiastic about the changed circumstances.   
Blended Activities –  
The concern about lack of Physical activities during the lockdown was addressed by carefully creating canned lessons by the Sports Department for sports such as Football, Basketball and Physical exercises that students joined in from their homes. After mastering techniques, students recorded their videos and sent them back to us.   
Music lessons were regularly conducted where the Music department created lessons that were shared with students who recorded their videos and sent them via Flipgrid or logged in to the Swardhara app that enabled them to complete canned lessons.   
Similarly, various arts and craft lessons were created for students simultaneously.   
The Path Forward-  
With the Government set to reopen schools in some states in the country, Arya Gurukul is well- prepared to continue the hybrid model of Blended learning, with the physical school for practical lessons and online school of teaching concepts. This will ensure portion completion while ensuring the safety and health of the students.