True strength of character reflects in the way in we overcome adversities and challenges.  The year 2020 posed many challenges such as closing of schools and moving to the digital medium of learning. Concerns about safety and health hindered our movements and freedom in several ways. 
Despite this, Arya Gurukul, the best CBSE school in Kalyan, built a sound digital infrastructure that enabled our teachers to reach out to students during the pandemic. However, it is important to recognise the spirit and positive attitude of our students and parents who were determined to seek learning opportunities as much as the school was determined to teach them. Thus, teamwork and a spirit of positivity helped us sail smoothly during the year gone by.  
Arya Gurukul Achievement – Microsoft School. 
This positive spirit led to your school, Arya Gurukul to become a "Microsoft School". The teachers have worked immensely hard to certify as "Microsoft Innovative Educators" or MIE teachers. 
Award by Education World. 
In November, Education World ranked us in the 3rd position in the "Top 10 Co-Ed Day Schools" category– an effort to appreciate the best schools that provide good- quality education to the students in their locality. This was a great honour and privilege to receive these prestigious awards.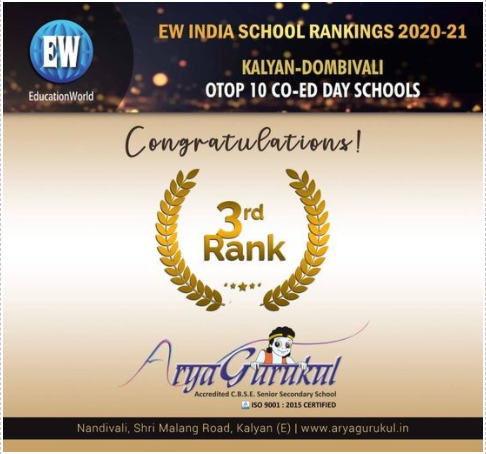 Times School Survey Award.  
In another milestone recognition, Arya Gurukul, Nandivali was ranked at 4th position for National Curriculum in East Zone. We featured in The Times Group's, Times School Survey, which was a thorough and rigorous process of scrutiny to highlight the best schools and their performances in providing the best educational experiences for its students.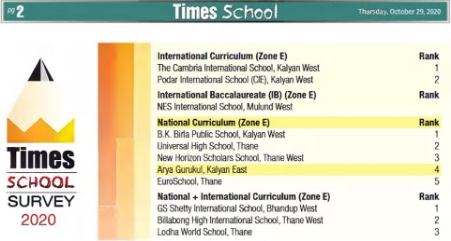 Times Education Icons Award- 
Arya Gurukul, Nandivali was felicitated by Times Education Icons, 2020, an initiative by Optimal Media Solutions, a division of Times Internet Limited. This recognition was based on a survey and a thorough research-based approach to honour schools and pre-schools across Maharashtra that have excelled and created a benchmark for quality education. 
 Global Leadership Award 2020- 
Recently, Arya Gurukul, Nandivali was rated 5 Stars at the Global Leadership Award 2020 held at Gurugram. The ceremony was graced by CBSE Secretary Mr. Anurag Tripati. The recognition comes to us due to our unstinted efforts in building leadership skills of our entire team and staff.  

An institution such as Arya Gurukul is considered the best in education across India. Recognitions and Awards only reinstate our belief that we are best in what we do and the outcome is out there for the world to see and experience- in our talented pupils.