Like every year this year, too Education Today Foundation had successfully conducted a Virtual "Inter-school Eco-friendly Ganesha Making Sankalp". More than 400 students of Arya Gurukul Nandivali, Arya Gurukul Ambernath, St. Mary's High School, and around 6 schools from CBSE Hub of Schools particiapted in the event on 3rd September 2021 at Arya Gurukul, Nandivali Kalyan Campus.  
The Program–  
Shri. Manish Vyapari, Fine Art and Sculpture artist presented a demo session virtually for the students on this occasion, to guide them in making the Ganesha idol. Students also displayed an array of cultural programme to invoke environmental sensitivity while celebrating festivals.  
A short video on Eco-friendly, Pollution-Free Ganesh Festival Celebration was shown to the students. These students used Shadu matti (clay), Eco-friendly material and colours and made Ganpati idols by showcasing their talent, skill and creativity with utmost sanctity.  All the students shared their work to their teachers TEAMS CHAT and E-mails.  
Thereafter, the students, teachers and principal got together and took a pledge to celebrate Ganesha Utsav with eco-friendly Ganpattis idols and Decoration materials for their lifetime.  
Eco–friendly celebrations-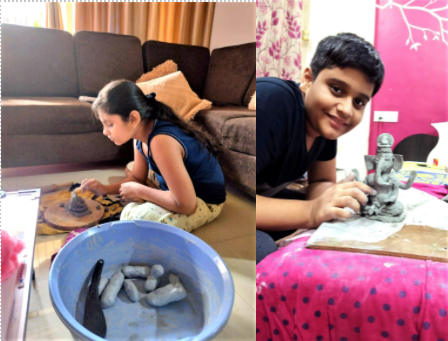 On this occasion, Chairman, ETF, Shri Bharat Malik mentioned after seeing the response of the eco-friendly Ganesh Utsav, that it has inspired him to spread the message among the students and the masses about inculcating pollution-free habits.  
As schools believe in celebrating Ganesha Utsav in an eco-friendly way to protect our environment, the presentation by the students were shared to the parents virtually to spread the massage. The idol made will be immersed in school premises by creating a water pond and this clay would be recycled for future use.  
In this way, students were motivated to celebrate Ganesha Festival in an eco-friendly manner for their lifetime and conserve the environment.  
Smt. Radhamani Iyer, Principal, Arya Gurukul, expressed her views on this occasion; she said "Great way to invoke Lord Ganesha in an Eco-Friendly way."  
Shri. Manish Vyapuri  spoke about how the water and surroundings get polluted after immersion of POP Ganesha Idols. He suggested ways to curb the pollution caused by these immersions. He asserted that Ganpati idols should be made by the Eco-friendly 'Shadu Mati' only. 
All the participants were motivated for this noble drive with merit certificate for the most creative idols made by the students.                     
Smt. Neelam Malik, Director ETF, also expressed her views on this occasion to promote noise-free and pollution-free Ganpati Utsav.  
Shri Hemant Magarde, Mrs. Mani Nadar, Art instructor from Arya Gurukul Nandivali  and Mrs. Neelam Rozario,  from St. Mary's High School initiated this  beautiful program which not only helped to explore the creativity of the little sculptors, but also imbibe in them the eco-friendly habits right from young age.