In the recently concluded Naya Bharat e-series, an initiative of the Union education ministry's Unnat Bharat Abhiyan, the discussions mainly revolved around the theme of "Transforming Education via Indian Knowledge Systems for Schools". Eminent panelists spoke of how the Central Board of Secondary Education had introduced an elective course titled Knowledge Traditions and Practices of India (KTPI) for grades XI and XII way back in 2013.
Dr. Arundhati Mehta Sundar, Academic Outreach Coordinator, Chinmaya International Foundation, spoke of how the unique elective course combined various disciplines of study including maths, chemistry, fine arts, agriculture, trade and commerce, astronomy, surgery, environment, life sciences, music, and theatre. "The course directly links students to the traditional knowledge of Indian culture through the relevant course and reference material including videos."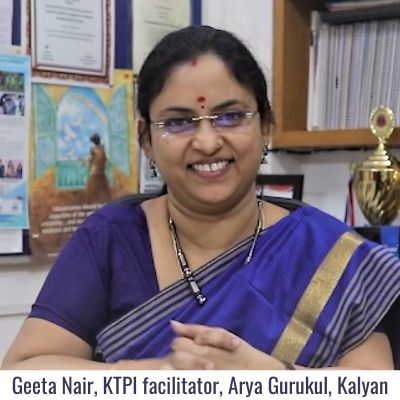 Geeta Nair, KTPI facilitator at Arya Gurukul, concurs: "Teaching of culture and heritage promotes self- awareness and self-esteem among students and develops a sense of deep love for one's country as well as for other countries, which is the need of the hour."
KTPI is totally aligned with the new NEP (National Education Policy) 2020 which speaks about integration and understanding ancient Indian culture and traditions to understand the current scenario.
It's noteworthy that Arya Gurukul schools at Nandivali and Ambernath are both Chinmaya Vision Schools and have integrated knowledge of Indian culture and tradition right from the pre-primary level. Therefore, integrating NEP in our schools is a natural outcome. Moreover they have also adopted a holistic education approach by removing hard separations between arts and sciences, curricular and co-curricular activities, academics and vocational streams, subjects and disciplines. The first batch of students which graduated with KTPI was in 2015.
Teaching-learning at Arya Gurukul schools is based on the four pillars of Integrated Development, Indian Culture, Patriotism and Universal outlook. They have well-stocked libraries where Awakening Indians to India and Transforming Indians to Transform India are in popular demand by its students. Their Annual Days revolve around unsung leaders of India and events such as the Matru-Pitru Pujan and Vidyarambhamanswer that explores the why and how of Indian traditions.
Also read: Gayatri Hawan at Arya Gurukul, Kalyan invokes positivity
"Knowledge of traditions and practices are our strongest pillars on which the entire world and people stay connected. Unless we are aware of our country's glories, we may not do justice to the belief of Vasudaiva Kutumbakam. Currently India is running the world's largest Covid-19 vaccination programme, which will be an example for the entire world," adds Nair.