As one of the best schools in Kalyan, Arya Gurukul strongly believes in the Indian Value of Education. With this value, we give students the freedom to explore and expand their knowledge through the Indian ways.
Arya Gurukul is ranked in India as the first school to introduce Chinmaya Vision Program, this program is entirely based on Swami Chinmayananda's advice and thoughts. The importance of instilling Indian culture and value in the school curriculum is to prepare students to take up any challenge with patience and confidence. The inclusion of Indian Values in the school will help the child bring a balance between the spiritual and educational subjects. Our school aims at building a strong and sustainable foundation which is based on the Indian culture and values. On the other hand, we also work further in building the confidence which will transform the child into a capable citizen.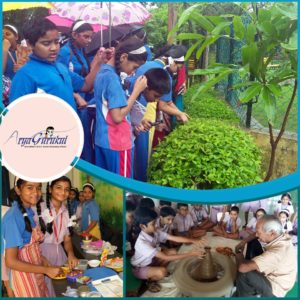 The Chinmaya Vision Program is based on the four pillars of the Chinmaya Vision – Integrated Development, Indian Culture, Patriotism, and Universal Outlook. Arya Gurukul, one of the best schools in Kalyan imparts value based education in order to build up the right quality of honesty as well as humility in a child. The method of bringing up the child in an ethical way is what Arya Gurukul strongly trusts.
We believe in incorporating Project Based Learning, a method that is innovative for the child to explore the real problem and the challenges which they face can be sorted the easier way.